Budding Scientists go observing (virtually) on Hawaii for 2015 Girls' Day at HdA
Girls' Day 2015: Participants made their own observations via Internet, in cooperation with the Las Cumbres Observatory Global Telescope network
For 14 pupils participating in the 2015 Girls' Day at Haus der Astronomie and the Max Planck Institute for Astronomy on April 23, the Internet became the gateway to dealing first-hand with astronomical images. Girls' Day is a nationwide event with the aim of introducing female pupils to professions and careers that are perceived as male-dominated. At Haus der Astronomie, the girls will be able to learn what it is like to work as an astronomer.
To this end, the participants made use of astronomical images taken with the telescopes of the Las Cumbres Global Observatory Network, creating their own color images for objects as diverse as the globular cluster Messier 55 and the active galaxy Centaurus A. Some of the girls even went observing on their own: They took images of the spiral galaxy Messier 51 using the 2 meter Faulkes Telescopes North located at Haleakala on Hawaii. Use of the telescope was made possible by a cooperation with the Las Cumbres Observatory Global Telescope network (LCOGT), a non-profit organization dedicated to building and operating a network of professional robotic telescopes, deployed worldwide, for science and education.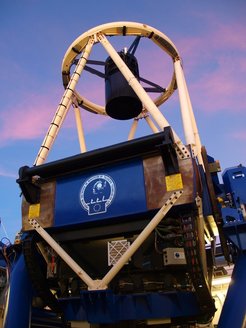 Carolin Liefke, who coordinates remote observation activities at Haus der Astronomie, says: "Professional astronomers no longer spend their nights looking through telescopes with their own eyes. Instead, they benefit from the advances of technology, such as the use of telescopes all around the world that can be operated remotely. Today's observations gave our participants insight into astronomers' everyday work."
Edward Gomez, Education Director at LCOGT, adds: "One of the primary goals of LCOGT is provide an inspirational experience of science through the use of our robotic telescope network. We very much hope that the students involved in Girls' Day at the Haus der Astronomie will see science as something which is interesting and exciting after their experience there."