NEW: Twenty Worlds
the extraordinary story of planets around other stars
New book by HdA employee Niall Deacon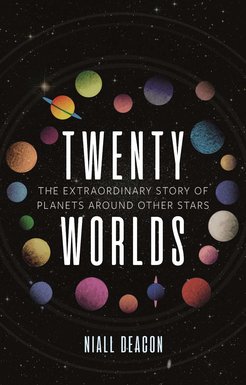 One of the most exciting developments in astronomy in the last 30 years has been the discovery of exoplanets, planets orbiting stars other than the Sun. A new book by Niall Deacon, a science staff member at Haus der Astronomie and the IAU Office of Astronomy for Education, tells the story of these fascinating worlds.
The book, titled Twenty Worlds, is available in English as part of Reaktion Books' Universe series. It takes twenty of the more than 4000 known exoplanets and uses each to tell a broader story about how planets are discovered, studied and how they form, evolve and eventually die.
The book is aimed at the interested general reader, using examples from everyday life to tell the stories of these utterly alien worlds. Twenty Worlds should be of interest to any older high school student or adult fascinated by astronomy.
More information: Book homepage at Reaktion Books.