Per Internet to the Stars: Participants make own astronomical observations for 2016 Girls' Day at HdA
Girls' Day 2016: Participants at Haus der Astronomie made their own astronomical observations via Internet, in cooperation with the Las Cumbres Observatory Global Telescope network
Astronomical observations in the daytime? Possible, in particular if you have access to a world-wide network of telescopes that can be controlled via the Internet. This is how 16 pupils participating in the 2016 Girls' Day at Haus der Astronomie and the Max Planck Institute for Astronomy on April 28 made their way to the stars, more concretely to globular clusters like ω Centauri or galaxies like Messier 83. Girls' Day is a nationwide event with the aim of introducing female pupils to professions and careers that are perceived as male-dominated.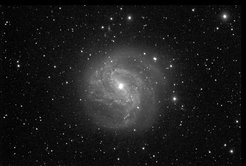 At Haus der Astronomie, the girls will be able to learn what it is like to work as an astronomer. The telescopes they used belong to the Las Cumbres Global Observatory Network (LCOGT). More concretely, today's observations were made with one of LCOGT's 40 cm telescopes located at Siding Spring observatory in Australia. Participants then used suitable software to create their own color images of their chosen target objects.
Use of the telescope was made possible by a cooperation with the Las Cumbres Observatory Global Telescope network (LCOGT), a non-profit organization dedicated to building and operating a network of professional robotic telescopes, deployed worldwide, for science and education.
Carolin Liefke, who coordinates remote observation activities at Haus der Astronomie, says: "When professional astronomers go observing, they apply for observation time, and in many cases receive their data via the Internet. Observing remotely, using the LCOGT telescopes, gave our participants first-hand experience in what it is like to be an astronomer."
Edward Gomez, Education Director at LCOGT, adds: "One of the primary goals of LCOGT is provide an inspirational experience of science through the use of our robotic telescope network. We very much hope that the students involved in Girls' Day at the Haus der Astronomie will see science as something which is interesting and exciting after their experience there.