Nation-wide Teacher Training on Astronomy 2019
14 - 16 November 2019: Nation-wide Teacher Training on Astronomy
Also in this year the Haus der Astronomie offers a training in astronomy for teachers from all over Germany. Registration is now possible by e-mail.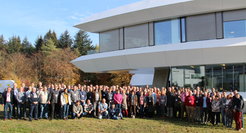 This year, for the seventh time already, the Haus der Astronomie in Heidelberg is organising an advanced training workshop for teachers on various topics related to space research. Registration is now possible via e-mail to Olaf Fischer.
The concept of the training provides for lectures on current astronomical research in the morning in the plenum. In the afternoon there is plenty of room for exchange and application as well as further small lectures for various interest groups in three to four parallel events. At this point, the participants themselves can become active and contribute their own ideas and initiatives.
A sufficient number of long breaks and a joint dinner at the HdA will ensure an exchange of ideas outside the podiums as well as some relaxation.
The program of the training is supposed to meet the different requirements and basic conditions of astronomical education in Germany. It will contain:
Physics in Space: Fascinating and Current Cosmic Applications of Physics
Astronomy as an interdisciplinary network: multi- and interdisciplinary research projects
Astronomy and space travel: Technology of space travel and observation, including in the domes of the State Observatory
Thanks to the generous support of the WE-Heraeus Foundation, all participants can be reimbursed for their travel expenses and, up to a certain amount, for their overnight stay.
Further information and a preliminary programme can be found on the event page.