HdA is getting a sister building!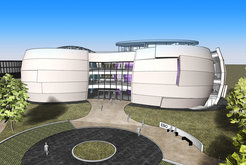 The European Southern Observatory (ESO) and the Klaus Tschira Foundation will be announcing plans to build an exhibition centre and planetarium at the ESO Headquarters in Bavaria at a press conference on the morning of December 3.
The new building for the popularisation of astronomy, located on the grounds of ESO's headquarters, is being funded through a donation from the Klaus Tschira foundation. The design of the new building, which will act as a sister facility to the HdA, which represents a binary star system shortly before a supernova explosion, has been conceived by Klaus Tschira with the help of the Darmstadt-based architectural firm, Bernhardt + Partner - the same firm that designed the HdA.
HdA and ESO have been cooperating closely for the past years, with the HdA acting as the German node of the ESO Science Outreach Network (ESON).
Additional information