Honoring participants of the IASC-Pan-STARRS Asteroid Search
IASC's Patrick Miller visits the HdA
From July 8 to 27, Dr. Patrick Miller from Hardin Simmons University in Abilene (Texas), who leads the International Astronomical Search Collaboration (IASC) visited the HdA with five of his students.
HdA made the most of this opportunity by inviting the participants of the spring campaign of the Pan-STARRS-IASC Asteroid Search to Heidelberg on July 19, where they received their certificates of participation from Miller. As the German part of the asteroid search involves schools from all over the country, it was sadly not possible for all of the 17 school groups supervised by HdA to participate. Ernst Schröter of Copernicus High School in Philipsburg, Inge Thiering from Neckargemünd High School and Gerald Dietze from Max Born High School in Backnang as well as Dominik Elsässer for Friedrich Koenig High School in Würzburg received their certificates in lieu of their students. We were especially happy to welcome participant Tom Kaluza, who had travelled all the way from Northern Germany.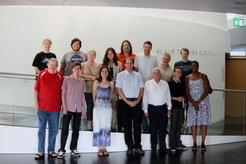 Patric Miller and his school also visited two of the schools participating in the IASC-Pan-STARRS Asteroid Search: Lessing High School in Lampertheim and Neckargemünd High School, both of which are HdA partner schools.
Links