Workshops for kindergarten groups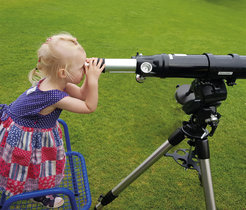 As early as kindergarten-age, children are enthusiastic about astronomy. And it's amazing what the kids already know and how much zeal they paint stars, make planets and plan a trip to the moon in the purpose-made spaceship. This is in part due to the fact children that can easily access astronomical topics in everyday life. Children know about many astronomical phenomena from their immediate environment, such as the different phases of the moon or the fact that the sun rises later in winter than in summer. However, they are generally perceived without realising it. The conscious study of astronomical processes in the sky makes children more aware of changes in nature. Since children are curious and eager to know more about the phenomena of the world, nature offers them the perfect learning environment.
We offer special workshops for kindergarten groups. The workshops last around 1.5 hours and comprise three different sections:
Exploring the planet path in the grounds of the Landessternwarte and the Max Planck Institute for Astronomy
A short break in one of the seminar rooms at the Haus der Astronomie or a mini astronomical topic
Visit to a dome with a telescope in the grounds of the Landessternwarte
Mini astronomical topics may include:
Constellations

Our moon

Day and night

The Earth is a sphere
If you have questions or are interested in a workshop and would like to arrange a date, please contact us via email. The contact person is Natalie Fischer.

The workshop instructors are Esther Kolar and Natalie Fischer.