William Herschel — Music and Astronomy
On 7th October 2022, 7:00 pm in the Haus der Astronomie: lecture with musical recordings
In memory of the astronomer, musician and composer William (Wilhelm) Herschel, who died 200 years ago, the Haus der Astronomie invites you to a lecture with music on 7th October 2022 at 7:00 pm. Herschel, who lived most of his life in England, is considered the first modern astronomer. He became famous with the discovery of the planet Uranus, built the first large telescopes and discovered infrared radiation. Before that, he worked successfully as a composer and musician. The lecture will be accompanied by some of his compositions.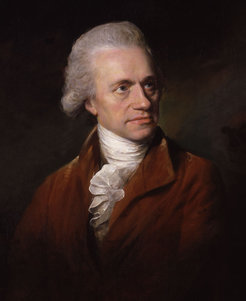 The astronomer and composer William (Wilhelm) Herschel died on 25th August 1822 in Slough in England at the age of 83. He was born in Hanover in 1738, but lived in England from 1756. At first, he pursued a successful career as a composer and musician. However, science accompanied him throughout his life. Finally, after discovering the planet Uranus with a telescope built by him and his siblings, he devoted himself to astronomy entirely. William accepted the position of the King's astronomer and moved to Slough, which is near the English royal seat in Windsor. There he built the biggest and best telescopes of his time and revolutionised astronomy with his sister Caroline.
Markus Nielbock from the Haus der Astronomie will introduce the person William Herschel in a lecture and report on his life as a musician and astronomer. In the process, you will learn how world history contributed to Herschel coming to England. After an insight into William Herschel's career as a musician and composer, which he crowned with a lucrative position in the spa town of Bath, the lecture is devoted to Herschel's most important scientific discoveries. The evening will be accompanied by recordings of some of William Herschel's rarely performed compositions. The planetarium will provide the appropriate atmosphere.
When? 7th October 2022 at 7:00 pm
Where? Klaus Tschira Auditorium in the Haus der Astronomie
Tickets at a price of EUR 7,00 can be purchased online at: https://ztix.de/hp/events/12963/info
The access is barrier free.
Should you not be able to visit the event despite having booked, we kindly ask you to cancel your booking so that other interested parties can attend.
Measures to combat the Covid 19 pandemic
Access to the Haus der Astronomie is only permitted according to the "3G rule" (vaccinated, recovered, tested). We use scanners for this purpose, which read your certificate from the Corona-WarnApp or other applications. The data is not stored. Alternatively, you can prove your status in another way. Please have an identity card ready.
Please note the obligation to wear a medical or FFP2 mask in the House of Astronomy.