Heidelberg Life Science Lab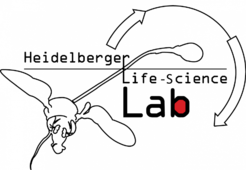 The Heidelberg Life Science Lab is an institute of the German Cancer Research Center (DKFZ) and is tasked with supporting high school students who are highly talented or particularly interested in the areas of mathematics and science through extra-curricular activities.
The Life Science Lab's program is based on three pillars: Weekly talks by scientists followed by a discussion round, self-organizing working groups headed by mentors from the world of science, universities and schools, and weekend seminars and holiday academic programs. The work of the working groups is project-based and is carried out at the laboratories available to them.
One of the major focuses of the Life Science Lab is of course the life sciences, however physics is also well represented. HdA staff member Carolin Liefke has been involved at the Astrophysics AG of the Life Science Lab by supporting various projects since October 2010 and has held the role of science mentor within the working group since March 2013.
More information