HdA for Children
The Haus der Astronomie is the German node of the international Universe Awareness program (UNAWE) which aims to communicate the fascination of astronomy to younger children – and to show children that, whatever our differences in culture, nationality or status, we are all citizens of a single planet. To this end, we develop teaching materials suitable for children of different ages. A number of these, or of equivalent resources, are available in English on the UNAWE website. We are also interested in partners who might want to translate additional German-language material into English!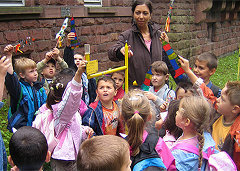 On site, we offer workshops for kindergarten-age children. Participants explore simple astronomical concepts hands-on and are also taken on a tour of the nearby Landessternwarte observatory. Workshops are by prior appointment. While, by default, in German, workshops held in English can be arranged on request.
To find out about our offers for school-age children, see Information for pupils.